Buy your copy of Success MindwareTM by midnight tonight and get 3 incredible bonus gifts FREE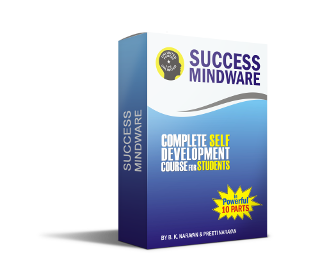 Free Bonus Gift #1: (Rs. 150 Value)
"One Week To Good Handwriting"
Free Bonus Gift #2: (Rs. 350 Value)
"How To Develop Financial Intelligence"
Free Special Bonus Gift # 3: (Rs. 1500 Value)
Email Consultations for One Year:
Yes, you will get free detail, personal email counseling and guidance from B.K Narayan for whole one year via email.
If at any time you want more help or advice to guide your children better...just email him during the first year after you buy Success MindwareTM
You will get quick answers. (Usually Narayan responds back within 24 hours unless he is busy with workshop or other engagements. As he answers his emails personally.)
This help is practically priceless. With this free email support Success MindwareTM will act as a custom-made program for your children. It will help your children get better results. And you'll get much more worth for your money.
Hurry! Order your copy of Success MindwareTM now...


Yes, I want this amazing complete Self-Development course for my children/myself
Price: Rs 6650/- Rs 4500/- (save Rs.2150)

Note: Your payment is processed securely. You can pay through Indian credit/debit card or Netbanking. And you will get links to download Success MindwareTM
International buyers, living outside india:
You can buy Success Mindware course by clicking the link given below. You can use International credit card/debit card or your Paypal account. Your payment is processed securely by Fastspring, an ecommerce company based in California, America.
Parenting | Complete Self-Development System | FAQs | About Us | Contact Us| Disclaimer| Terms | Privacy|